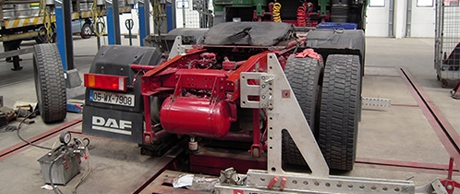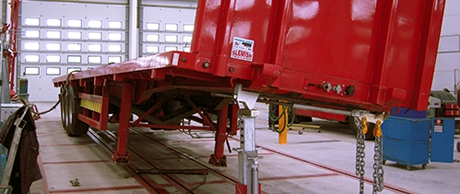 Commercial Chassis Repair
At Corcoran's we are specialists in the repair of truck and bus chassis which have had collision damage. Using computerised measurements and specialist chassis equipment we can repair bent, twisted or cracked truck and bus chassis and can also issue an engineer's report for the work done if required.
We have extensive experience in repairing commercial vehicles chassis frames. Our commercial estimator can provide you with a detailed estimate and repair plan, a computerised report on the pre and post repair vehicle. Getting commercial vehicle damaged can be a stressful event, we can provide advice on the insurance accident claims process if needed, repair your vehicle to factory condition and get it back on the road in a time effective manner.
We conduct computerised suspension wheel alignment on every chassis repaired. This includes the setting of steering angles such as Toe, Camber, King Pin inclination & steering wheel re alignment etc.
Our specialist truck cab repair Jig and pulling equipment can repair structural panels of cabs including side, roof and rear panels, to return your commercial vehicle to pre accident condition.